The Alzheimer's Digest
Providing tips and information on Alzheimer's and Dementia Caregiving.
Wednesday, April 16, 2014
| | |
| --- | --- |
| | An Army of One |
Look around. Whom do you see?
Women, men, teens, grandparents, spouses, sisters, brothers, friends, significant others. Nurses, home-health aides, doctors, Visiting Angels, hospice care workers, social workers. Priests, nuns, ministers of every denomination. People of all races and ethnic origins. All across the world, in every country, we are there. We are the caregivers.
Yet we are alone.
Every story is different. Every caregiver fails in his or her own way. The guilt eats at us. The lack of sleep drains us. The accusations of neglect and abuse by loved ones suffering from dementia or brain injury haunt us day and night. We feed and clothe and them. We bathe them. We cry for them and with them. We love them. And some days we don't like them. We go to battle for them and we beg for some time away. We are part of you and we are alone.
My husband and I planned for the time when one or more of our parents would need care. We would bring them into our home and provide a safe, loving place for them as long as it was needed. It would be hard, but hard is what life is sometimes.
Living with and caring for my father-in-law, Rodger, was far more difficult than I ever imagined. I never suspected his quirky behavior was due to schizophrenia, first diagnosed in his early twenties. A diagnosis long hidden from members of the family, including my husband and me. Not only had the disease affected his life, but so had the years of powerful drugs that enabled him to function. His memory and ability to reason were vastly diminished. Suspicion and paranoia made it impossible for him to trust me while I, innocent that I was, trusted him when he said he took his medication.
Although he lived for five years after his last psychotic break, he never really recovered from it and the near fatal bout of pneumonia that he came down with while in the hospital.After that came the heart attack, followed by surgery to implant a pacemaker. The pacemaker led to blood clots forming in his arm. Blood thinners requiring regular blood tests caused him great anxiety.
"What is the government doing with my blood? Why do they need so much?" he'd ask.
My suspicion that he was developing Parkinson's disease was deemed incorrect, until months later, when it could no longer be denied. The disease ran in his family and his sister had recently died from it.
He needed a walker and could no longer use the stairs. Severe swallowing problems meant pureed food and thickened liquids made up his diet. I learned to cook food that tasted good and offered as much nutrition as possible, but even I had to admit that the meals looked awful. Dementia came next, bringing the phenomenon of sundowning along with it. No one slept much, once that started.
When people learned I was a caregiver they would say they understood. Some may have, on some level. But, I knew deep in my heart that they could not really know how it was.
How could they?
His life was his own. His back story defined who he became. His history of illnesses was as convoluted and complicated as his mind. He needed so much. What he got was one woman, part of a vast army of caregivers who tend their loved ones alone.
Who are the informal caregivers?
Although there may appear to be wide discrepancies in estimates of the number of informal caregivers in the U.S., the figures cited below reflect variations in the definitions and criteria used in each study (e.g. age of care recipients surveyed or relationship of caregiver to care recipient).
65.7 million caregivers make up 29 percent of the U.S. adult population providing care to someone who is ill, disabled or aged. [The National Alliance for Caregiving and AARP (2009), Caregiving in the U.S. National Alliance for Caregiving. Washington, DC.] - Updated: November 2012

52 million caregivers provide care to adults (aged 18+) with a disability or illness. [Coughlin, J., (2010). "Estimating the Impact of Caregiving and Employment on Well-Being: Outcomes & Insights in Health Management," Vol. 2; Issue 1] - Updated: November 2012

43.5 million of adult family caregivers care for someone 50+ years of age and 14.9 million care for someone who has Alzheimer's disease or other dementia. [Alzheimer's Association, "2011 Alzheimer's Disease Facts and Figures, Alzheimer's and Dementia," Vol.7, Issue 2.] - Updated: November 2012

LGBT respondents are slightly more likely to have provided care to an adult friend or relative in the past six months: 21 percent versus 17 percent. ["MetLife: Still Out, Still Aging 2010. Study of Lesbian, Gay, Bisexual, and Transgender Baby Boomers"] - Updated: November 2012
Friday, April 11, 2014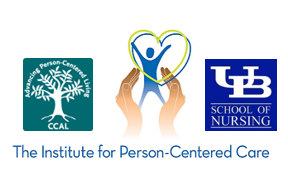 Help Washington, DC hear the voices of people living with dementia
CCAL-Advancing Person-Centered Living is working with the University of Buffalo-Institute for Person-Centered Care on a research project funded by the Retirement Research Foundation. One of the aims of the study is to gather feedback from a geographically diverse group of people about what they feel is important and/or needed concerning dementia care in America.
The aim of the survey is to develop agreement on priorities for dementia care, research, education, and funding from the perspectives of people living with dementia, family care partners, and advocates for people with dementia. As someone with knowledge about dementia, we invite you to take part in this study. It is easy to participate and will not involve much of your time.
There will be at least one more round of the survey as we build agreement. We hope that you will participate in the multiple rounds. We will ask you for your email at the end of the survey so we can send the next survey to you. Your responses and any other information you provide will not be linked to your email. The research has been approved by the Internal Review Board at the University of Buffalo.
A written survey and a pre-addressed, postage-paid envelop can be mailed to you if you would prefer this method instead of completing the survey online. Please call the number below and leave your name and address.
We will combine the views of everyone who takes part in the survey. We will use the information to help inform federal policymakers about what people feel is important and needed concerning dementia care to better inform and shape their priorities.
Your response by April 25, 2014 would be appreciated.
To request a paper version contact:
Dr. Davina Porock
Director, UB Institute for Person-Centered Care
(716) 829 2260
Or email
ipcc@buffalo.edu
Thank you for helping us make your voice be heard!
Karen Love, Founder, CCAL-Advancing Person-Centered Living
Davina Porock, PhD, Director UB Institute for Person-Centered Care
______________________________


TCV Editor: CCAL stands for Consumer Consortium on Assisted Living
| | |
| --- | --- |
| | What Role-Playing Can Teach Dementia Caregivers |
There are numerous avenues to receive knowledge regarding Alzheimer's dementia care. You can research online, read books, go to support groups, watch videos and attend in-person seminars.
Choosing one, or all, of these educational avenues will help you on your journey; yet, in my experience, I have learned the most from in-person educational experiences that include interactive role-playing (acting out a scenario with one person presenting dementia symptoms).
Role-play puts you in a loved one's shoes
Attending a program with role-playing scenarios is very useful. Most caregivers who accompany a loved one on his or her journey with dementia are adults; and adults learn in different ways than children do.
As adults, we rely on our personal life experiences, as well as our practical experiences, to inform our behavior. An interactive educational program allows you to not only receive the information, but also gives you the opportunity to practice the new skill set you have learned.
For example, classes offered at the Dartmouth Hitchcock Medical Center in New Hampshire feature real-life actors and actresses playing the parts of people with Alzheimer's, Parkinson's and other ailments to expose professional caregivers to different scenarios they may encounter while caring for aging adults.
One of the core skill sets needed as a dementia caregiver is the ability to read another's body language, and to realize what one's own body language is communicating to others. The best way to learn about body language is by role-playing.
Some of the most eye-opening experiences I have had have been when I am "acting" as a person with dementia. This type of role-playing allows you to put yourself in another's shoes and experience how approach and engagement with body language can be perceived.
Practicing your new knowledge and skill set before trying it at home will help you, as the caregiver, become more at ease and decrease your anxiety and stress. By reducing your anxiety and stress, you can help prevent negative behaviors and outbursts by your loved one who is on their journey with dementia. Both they and you will have a better day by avoiding unnecessary increases in stress levels that accompany such behaviors.
Practice makes perfect when preparing for uncertain situations
Another reason that the role-playing aspect is such a valuable way to learn is because of the "practice makes perfect" concept.
While I am presenting my in-person educational programs, I revisit the fact that what works this minute may not work the next minute.
At many seminars, a caregiver will receive education in a non-interactive way; after which, they will go home and try to implement what they learned with a loved one. If particular method does not work for them, it is easy to enter into one of the following mindsets: this tool does not work with my loved one; I, as the caregiver, did not do it right; or, I do not feel comfortable with the skill set I learned.
This can make a caregiver reluctant to revisit that skill, even though it may be exactly what they need to make their day-to-day experience with their loved one more enjoyable.
With an in-person, interactive educational program, you are able to learn, practice, practice again, ask for guidance and clarification, and become more comfortable in your own ability to engage with your new skill set.
Everybody makes mistakes—and that's okay
The greatest part of an interactive educational program occurs when the caregiver gets comfortable enough with role-playing that they are able to laugh, smile and not worry too much if they make a mistake. As an educator, when I see my professional and personal caregivers get to the point of smiling and laughing, I know they are embracing the new skill and have become comfortable enough to try it outside of the education setting.
Many times, caregivers will stop trying to use a new skill set because they fear making a mistake and are afraid of how it may affect their loved one.
By taking part in an interactive class, you get to work out some of the kinks before you go home.Also, this process gives you a better chance of the skill set sticking. (I will be the first to tell you that I make mistakes with engagement—and I still do even after 15 years of engaging with others on their journey with dementia.)
The point is to avoid beating yourself up if you are not perfect at a skill you have just learned. Embrace it, practice it, and observe the interactions to figure out which approach gets the best reaction from your loved one.
Not every dementia caregiver will have access to in-person role-playing seminars and courses, but any way of gaining more information is better than not continuing to learn about your loved one's condition. Remember, all educational avenues are helpful.
Continue to learn and grow in your skill set and practice, practice, practice! Wishing you strength, courage and happiness with those in their days gone by.
Thursday, April 10, 2014
During the years I cared for multiple elders, I grew to dread the ringing of the telephone. It seemed most calls meant emergencies. One example? My neighbor, Joe, for whom I was the primary caregiver, wore a personal alarm so that he could push a button to notify a dispatch center if he had an emergency. The dispatch center would call him back. If he didn't answer his phone, they'd call me.
The moment is frozen in time for me when, just hours after I left his house, my phone rang. It was the dispatch center telling me that Joe had punched the help button and wasn't answering his phone. I immediately ran across the yard and pushed through the door. Joe was lying on the floor, with one leg at an unnatural angle. In agony, he just said "help me." Joe had broken his hip. I called 9-1-1 and we rode in the ambulance to the hospital. A few days later, Joe was moved to a nursing home, but he died within weeks.
My mother also wore a personal alarm, and I received frequent calls from the dispatch center to check on her. It was a short drive to her apartment, but always an anxiety laden drive for me. What would I find? Mom fell often, and that meant frequent trips to the emergency room. Eventually, because of the falls and other medical issues, she needed nursing home care, so we moved her to a
nearby facility.
For my dad, the life-changing situation was brain surgery gone seriously wrong, which for him, also meant a move to the nursing home. For my uncle, it was a massive stroke.
On duty 24/7
One of the most exhausting parts of being a caregiver, from my point of view, is that there's always the threat of an emergency that we are responsible to handle. We are literally on call 24 hours a day, seven days a week, even if our elders don't live in our own household.
Of course, anyone can have a life-changing emergency. A spouse can be in a car accident. A child can be injured playing a sport. However, when we are caregivers to vulnerable people who are completely dependent upon us, and who likely have health problems to begin with, we are much more apt to face an emergency that can change current plans for anything from a few hours to the rest of our elders' lives. Frequently, that change means hiring outside help such as in-home care or moving our loved one to a care facility.
How do we prepare to handle the potential, often rapidly changing needs of our loved ones?
Work with your elders to make sure that you (if you are the primary caregiver) have the Power Of Attorney for health care, often called a health directive. Be sure that their clinic, hospital and doctor have a copy of this document. Keep a copy in the glove compartment of your car, and of course with their (and your) important papers at the homes. With this document on record and/or in hand, you can make the decisions necessary to continue caring for your elders if they can't speak for themselves.
If possible, plan ahead with your loved ones about their preferences should life-changing emergencies occur. Do they prefer in-home care, if that is an option? Or is there an assisted living facility or a skilled nursing home that would be better? Maybe you'd like to tour local facilities with them, if they are willing. Never promise not to "put them in a nursing home." Just tell them that you want to know their preferences for care under different scenarios and that you will do the very best thing for their health and safety, given the circumstances at the time.· If your elders live on their own, even if there are two of them, I'd suggest a personal alarm for each of them – or some type of monitoring – so that they can summon help should they not be able to phone.
Help them make a list, to be placed in an obvious spot such as on the refrigerator, for emergency crews. This list should include emergency numbers, medications and allergies, along with known illnesses such as diabetes. Don't make this list too complicated. If there is a lot of information for medics, provide the most necessary information on the emergency sheet, then write "a more complete list is on the kitchen table," or wherever there is a convenient spot for a longer document. The idea is that if medics arrive before you do, they should be able to quickly note any essential health information that would assist them in tending to your elder.
Keep copies of their Medicare and other insurance cards in their wallets, however keep originals with you. In this way, you can do the paperwork in the emergency room while they are being helped by medics. This system helped me several times when my parents were rushed to ER from the nursing home. I signed them in while they were being transported. Then I could be with them as soon as they arrived.
Have a dependable replacement in mind that can help with emergencies if you become unavailable for any reason. This will benefit your elders and yourself. You may even be able to take a few days off from the stress of being on call 24/7.